Are you looking for aesthetic room ideas to make your space look even better than it already is? Are you looking for solutions for your living space but don't know where to start? We have an article full of solutions for you. With that in mind, happy reading!
What are some aesthetic room ideas?
Here are some aesthetic ideas for your room,
Indoor plants
Beautiful wall clock
Mirror
Bedding
Wood effect
Houseplants
Houseplants will always look aesthetically pleasing! You can choose how and where you place your plants to make them look aesthetically pleasing and pleasing to the eye!
One famous choice is the money plant, scientifically also called Epipremnum aureum. This plant does not require much effort and is easy to care for. You can simply place it in your room, and it will enhance your room. The best thing about a money plant is that you can easily grow it in water, in a vase.
It is best to buy a transparent glass vase because this will also contribute to the decor of your room, as it will appeal to the eye in a very aesthetic way.
So yes, buy this item, and don't forget to buy an elegant transparent vase that will enhance your room.
Beautiful wall clock
A beautiful, elegant wall clock is the best investment. We recommend you buy a nice-looking clock and take the look of your room to another level.
A beautiful clock will change the look of your room. If you have fewer things and plain walls, it will enhance the aesthetics of your room, and it is quite obvious that a wall clock is a perfect investment.
You can find many beautiful wall clocks in stores all over the country, especially in gift stores that can deliver a good clock to your home.
You can also try a mirrored clock, it is reflective and made out of an acrylic sheet that has been cut into a shape of a clock face. The acrylic sheet is then placed over a standard clock mechanism. This allows the clock to be viewed through the acrylic sheet. An acrylic mirror clock is an attractive way to display your time. It is also a fun way to add dimension to your walls.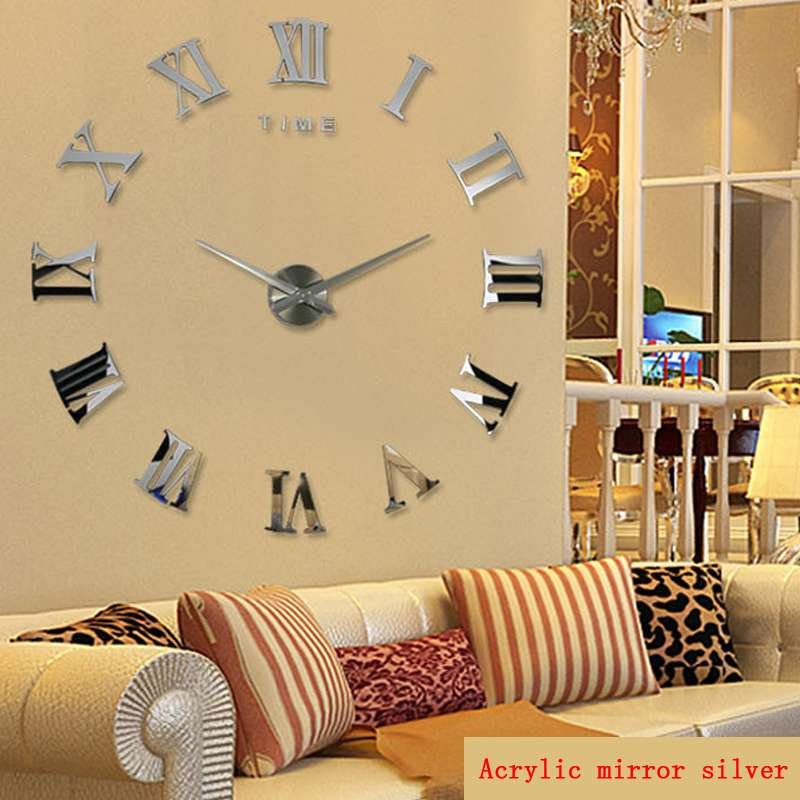 So you have a perfect idea: buy a wall clock. You can buy a big one or a comparatively small but nice-looking clock, which definitely must be on your list, and we are sure that you won't regret it if you buy it.
Mirror/Mirror wall stickers
Mirrors are the be-all and end-all when it comes to decorating a room. We suggest you install wall-sized mirrors and do it so that the two walls facing each other are covered with mirrors on the floor. You can either cover the wall completely or hang framed mirrors in an aesthetic way.
Choosing mirrors on the wall is one of the best ways to create the image of a larger space. They fool the eye like no other, and that's exactly what we're looking for – dimension!
You can add a mirror wall, and that will be one of the most aesthetically pleasing things you can add to your interior. You can also take a mirror wall sticker instead, because it can be easily made into various sizes and shapes to best meet your individual needs.
So why not spend some money as you are also looking for a space that will help you relieve all the stress of the day and also a place where you can find solace that is beautiful and contributes to peace of mind so yes, go ahead and implement this idea. We know you won't regret it.
Bedding
Weddings play an important role when it comes to decorating a room or changing the look of the room. That's why we recommend you find the best friends among the bedding, or maybe you can go for some aesthetically pleasing colors, but then you need to put more effort into the interior design and get more things that appeal to the eye. In this case, you can get something universally popular, such as solid lines or a plaid pattern. Whatever it is, you can easily and instantly change the look of your room by getting the perfect bedding!
Wood effect
If you want to add a sleek, raw wood effect, that's a good idea too! Some people add plain wood wall clocks, which also look very aesthetically pleasing.
You can also add wood-colored items to your room, such as a brown, wood-colored basket instead of a plastic one, a fabric laundry basket, or other containers where you can easily store your room's belongings.
Cane baskets are woven by hand and look beautiful as they resemble the color of the wood. You can also use a study table made of pure raw wood, which also looks very pretty and gives a vintage touch. So all you have to do is add a touch of wood to your bedroom, and you're good to go!
Conclusion
The above article is about everything related to aesthetics room ideas. So, can we say that you will be pretty enlightened after reading the article in detail?
So, please read the article patiently because you might have to brainstorm after that because you have to decide what to buy and shortlist it to create the perfect aesthetic space.
You may also like: