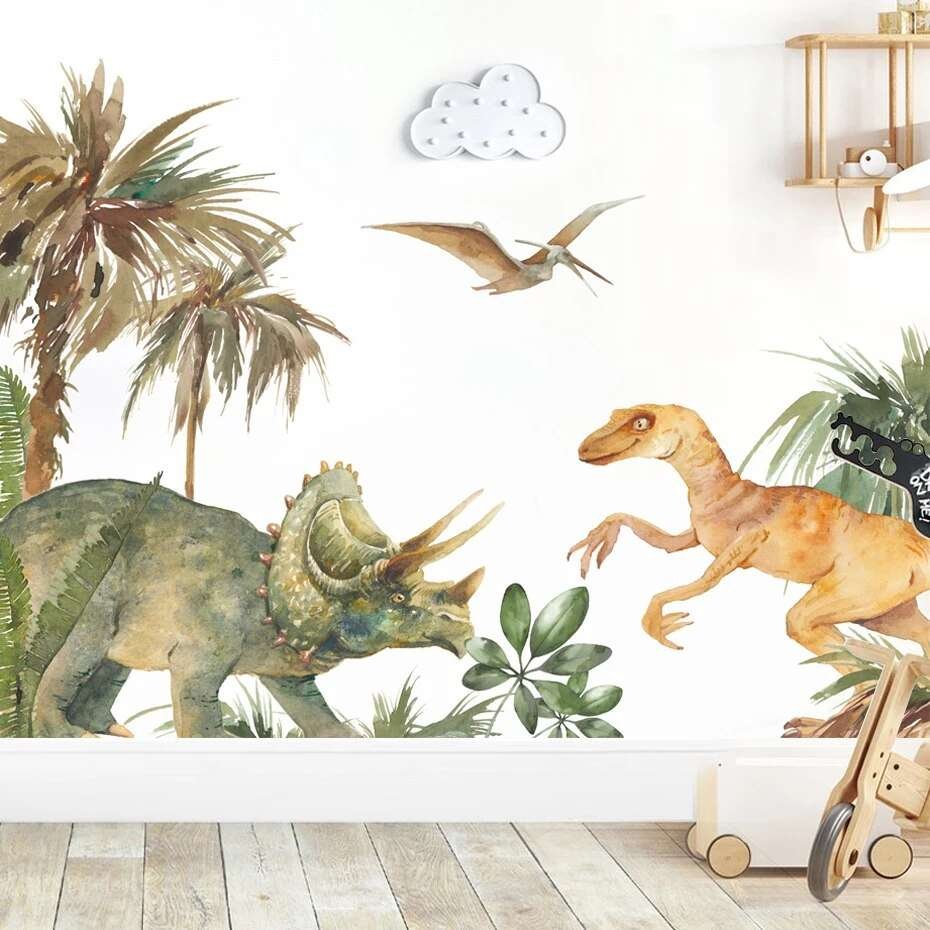 Nowadays, when it comes to home decor, more and more people are using wall stickers. This is due to their attractive appearance and eco-friendly materials. However, it's important to choose different styles of wallpaper for each room rather than using a uniform style throughout your home. Today, we'll discuss this issue.
Living Room: Subtle Elegance
The living room is where you welcome guests, so it's generally best not to go too bold with your decor. If you want to use wallpaper to decorate, consider light-colored, small floral patterns that can make the living space appear larger. For a European style, you can opt for wall stickers with vertical stripes, while a modern vibe should be complemented with cool color tones. Over time, warm colors may become overwhelming. When choosing colors for an accent wall, make sure they harmonize with your furniture. However, be cautious not to use more than three colors for both your wallpaper and furniture, as it can make the room feel chaotic.
Study: Atmosphere Over Color
Having a study filled with books and a distinct ambiance reflects a pursuit of a high-quality life. For a study, it's more suitable to have wall stickers with stories or themes rather than focusing on vibrant colors. Fresh and simple designs are more desirable. Light blue, light gray, and beige are safe choices. Avoid overly intricate patterns; clarity and simplicity help set the mood. You can cover all four walls with solid-colored wallpaper or use special patterned wallpaper on a single wall or in specific areas. If your study is small, ensure that you choose breathable wallpaper.
Dining Room: Simplicity with a Twist
With the table, chairs, and dinnerware already creating a lively dining atmosphere, your wallpaper should be simple yet intriguing. It's essential for the wallpaper to blend seamlessly with the environment. Different colors and patterns in the dining room wallpaper can provide various sensory experiences, appealing to your taste buds. The dining room is closely connected to the living room, so the choice of colors should be careful. Red stimulates excitement, green maintains your appetite, while soft yellow adds a touch of elegance. For a separate dining room, you can cover all four walls with wallpaper, or you can decorate a single wall or a portion. Lively colors can boost your appetite, plain solid colors look clean and rustic, and elegant patterns emphasize the warmth of family gatherings.
Bedroom: Personal Space, Show Your Personality
The bedroom is the most personal space in your home and reflects the owner's preferences. While it's ideal to choose the owner's favorite colors, there are two general approaches. Larger floral patterns create an effortlessly sophisticated atmosphere, while smaller floral patterns evoke ultimate romanticism. In most cases, bedroom decor leans towards the preferences of the female homeowner. If she's a professional, her home decor should exude confidence and grandeur. Consider using the wall opposite the bed as an accent wall, with floral patterns that differ entirely from the other three walls. Ensure the flower colors match the colors of the other walls for an overall atmosphere of sophistication and romance. For children's rooms, eco-friendliness is a top priority.
Children's Room: Eco-Friendly and Age-Appropriate
Children's rooms are perfect for wallpaper, and the options are beautiful. The primary requirement for children's room wallpaper is that it must be eco-friendly, with style coming second. Wallpaper choices differ based on the age of the child. For kids under 10, colorful and playful cartoon patterns can stimulate their perception. For children aged 10 to 18, it's essential not to make the decor too childish. For boys, choose cool color tones, for girls, opt for warm hues, and add trendy patterns around the chair rail. Girls can have stylish, cute patterns, while boys can enjoy sports-themed elements.
Bathroom: Functionality Comes First
Believe it or not, bathrooms can also be decorated with wallpaper. With the advancement of waterproof and moisture-resistant wall stickers, many homeowners are embracing this trend. In bathrooms with separate dry and wet areas, professional design and installation are crucial for using wallpaper effectively. Waterproof wallpaper suits bathroom use, and it offers a wide variety of colors and patterns. If you want to add variety to your bathroom space, consider giving it a try. Even in bathrooms with dry and wet areas, it's best to use waterproof wallpaper in the dry area. Remember to maintain good ventilation, regular cleaning, and dusting, and keep furniture away from the wallpaper's edges and corners.