Thematic kids' rooms are a fantastic way to spark your child's imagination and creativity while creating a cozy and lovingly decorated environment. Designing such a room requires planning, skill, and empathy to achieve a result that is both aesthetically pleasing and functional.
When planning a thematic kids' room, it's important to consider your child's preferences and interests, as well as focus on child-friendly furnishings and color schemes. Harmonious color combinations and the selection of appropriate motifs and materials play a significant role. In the following sections, we'll introduce different examples of theme rooms for kids, ranging from animal worlds to space adventures, and from superheroes to princesses.
There are countless possibilities for designing a thematic kids' room, so your creativity knows no bounds.
Inspiring Examples for Thematic Kids' Rooms
Thematic kids' rooms can enhance your child's play and learning environment. Examples like a jungle room with green and brown tones and animal motifs, or a space-themed room with silver accents and glowing stars can ignite your child's imagination.
Animal World
A thematic kids' room based on the animal world is a timeless and wonderful way to make your child's space lively and interesting. Start with an appealing color combination that reflects the natural habitat of the animal setting. Green and brown tones work well for a jungle or forest look, while blue and gray can create an atmosphere of the ocean and underwater world.
Use wall decals or kids' room accessories like plush animals and pillows to integrate the animal world into the room. Personalized acrylic glass images with animal motifs give the kids' room a unique touch and serve as a creative learning tool for your child. Consider DIY projects like homemade garlands with animal pictures or storage solutions in animal designs.
Space
Space is a fascinating theme that captivates children of all ages. A galactic room design can make your child's dream of space exploration come true. Another way to capture space life is by using wall decals of rockets, satellites, or aliens. These are easy to apply and remove as your child's interests change.
Children's furniture and textiles with space motifs further support the theme and add depth to the room.
Superheroes
Superhero themes are among the most popular kids' room ideas, especially for little adventurers who dream of stepping into the shoes of their favorite heroes.
Designing a superhero kids' room can be done in various ways, depending on your child's preferences and interests. To make the room spectacular, you can opt for an accent wall adorned with superhero motifs or a wall decal featuring the emblems or symbols of their favorite superheroes.
Children's furniture in the form of superhero elements, like beds shaped like Batman's Batmobile or chairs resembling Captain America's shield, can also add an original touch. For accessories, use textiles like bedding, pillows, and curtains with superhero motifs, along with lighting in matching designs.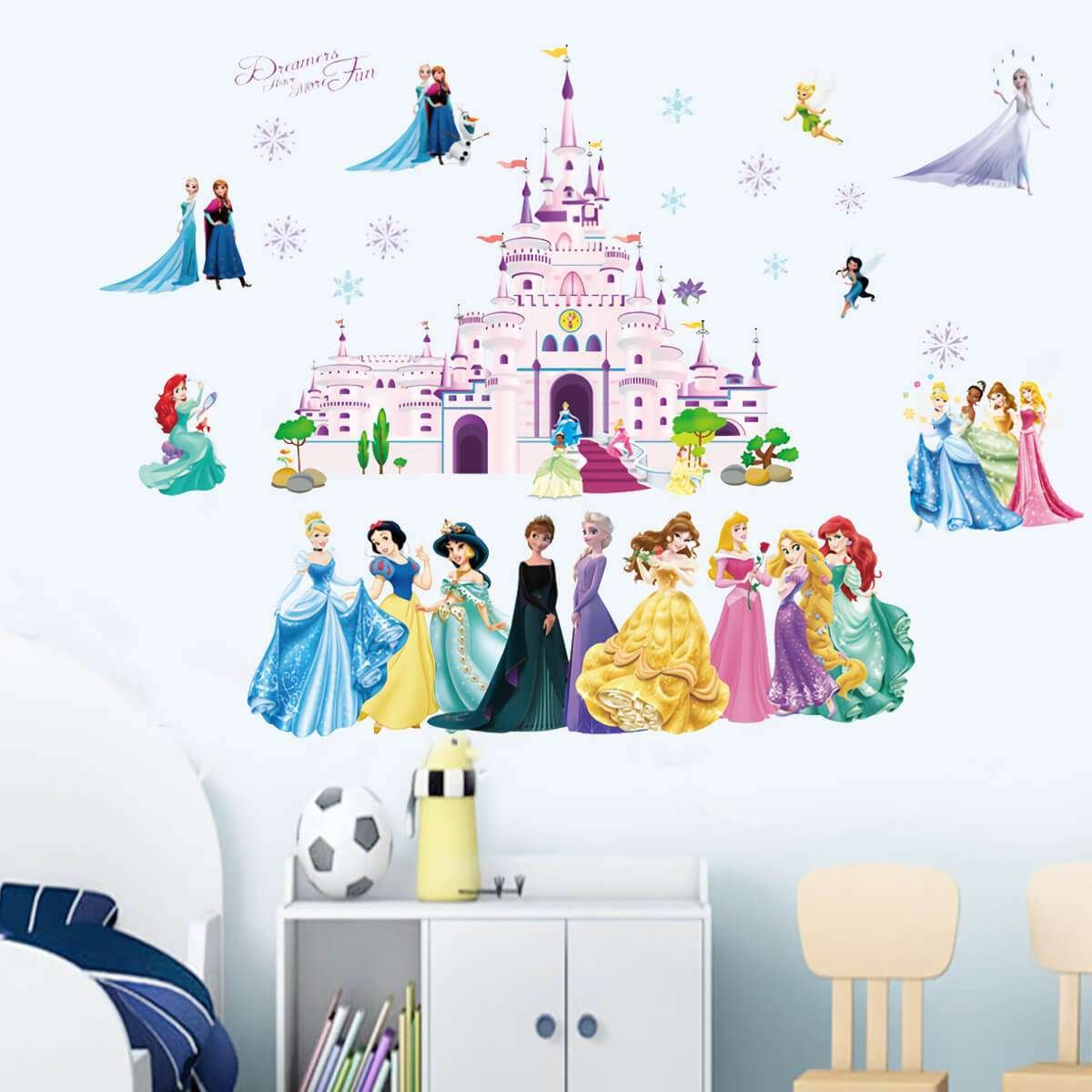 Princesses
A princess-themed room is a dream for many little girls. There are countless ways to transform the room into a fairytale world. Pastel colors like pink, purple, and white are perfect for a princess-themed decor.
A large hanging crown, a vanity with a mirror, a princess bed, and a crown-shaped lamp can give the room a majestic flair. A tasteful wall decoration with wall stickers in the shape of crowns or a castle completes the overall picture.
There are many ways to personalize the room. Personalized acrylic glass images with the child's name or a princess on them add a special touch. To keep the room tidy, storage boxes in the shape of crowns or castles are a great idea. A beautiful princess garland made from different materials like felt or fabric makes the room cozier.
Color Selection and Accent Wall
Choosing the right colors for the kids' room is essential for a harmonious design. Kids' rooms should be colorful and cheerful, with the choice of colors taking the child's taste into account. A tip for color selection is to use warm and bright tones as they create a positive and cozy atmosphere in the room. An accent wall can also be a great way to add depth and character to the space.
Unique Accessories and Decorations
Accessories and decorations can enhance the theme of the kids' room and give it a personal touch. Here are some unique ideas:
Wall Decals: Transform the walls with wall decals into a magical landscape or an adventure land.
Personalized Pillows: Create pillows with your child's name or an inspiring quote.
Hanging Mobiles: Bring a child-friendly atmosphere to the room by hanging colorful mobiles with plush figures or wooden ornaments.
Photo Wall: Create a photo wall with family photos, vacation memories, and selfies to provide your child with a sense of comfort.
Storage Bins: Use creative storage bins in fun shapes like animal faces or race cars to minimize clutter in the room.
String Lights: Add beautiful lighting accents in the kids' room, such as colorful string lights.
Paintings and Artworks: Foster your child's creativity by displaying their own paintings on the wall or showcasing special artworks.
When selecting accessories, stick to the thematic concept of the room and let your personal taste shine!
Personalized Acrylic Glass Images for a Unique Touch
Personalized acrylic glass images are a great way to customize the kids' room and give it a unique touch. These images come in various sizes and shapes and can be adorned with the child's name or an inspiring quote.
Acrylic glass images are durable, easy to clean, and add a modern touch to any room. Easily integrated into any space, personalized acrylic glass images offer a unique way to enhance the kids' room while reflecting the child's personality.
Conclusion: A Well-Designed Kids' Room Creates a Cozy Atmosphere
In summary, a lovingly designed kids' room plays a crucial role in creating a cozy atmosphere. Whether it's a themed room or a classically furnished kids' room, the choice of appropriate colors, materials, and accessories can make a significant difference in the room's impact.
Furthermore, it's important to consider the kids' room as a place for play and learning. The furnishings should encourage free play and provide opportunities for creative expression.
A beautifully designed kids' room can contribute not only to improving well-being but also to fostering a child's creativity and imagination. Visit here for more decoration ideas.